Accredited Certifications
This is the most important step in establishing yourself as a professional and successful expert. It shows potential clients your commitment to the process and builds your industry-wide credibility.
What is Accredited Coaching?
PragmaDoms offer certified coaching programs under ICF – International Coaching Federation. Today, ICF's coaching certifications are the most recognized and respected certifications for a coach. By becoming accredited, you will be part of a large community of elite coaches, grow this industry and impact individuals and organizations.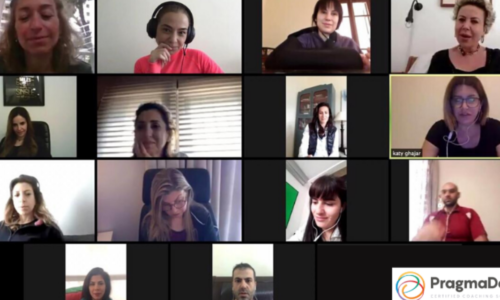 Why choose ICF Certifications?
Click
here
to read how our ICF programs are different.
Global program
ICF's certifications are internationally recognized and inspire trust and respect in coaches that hold them.
Credibility
Being a credential coach helps you stand out in a crowded marketplace from other coaches. You will be able to present yourself a true professional.
Member of an international organization
Once you start your ICF certification, you will be part of this international organization and your expertise will not be limited to one country, but worldwide. PragmaDoms offers the needed coach training program. We give you the tools and methods to coach clients from start to finish, set up a practice and stand apart in the competitive field.
Client satisfaction
Clients who work with certified coaches report better satisfaction and are more likely to recommend you to others.
How would you benefit with us?
PragmaDoms offers the needed coach training program that will help you fulfill an accredited certification's educational requirements. The program is intended to prepare, support and take you step by step throughout the entire process. We are the ONLY ones that offer "all-inclusive" Accredited Coach Training Programs (ACTP Accreditation) in Lebanon, delivered fully by a LOCAL Mentor and Master Coach. By choosing accredited coach training at PragmaDoms, you can be confident that you are getting high-quality training, in addition to being accredited from the US ministry of education.
Our executive coaching program participants can apply for SHRM and BCC. The BCC is a growing certification that has the advantage of being more straightforward to acquire than the ICF certifications. Our 60 hours training program meets or exceeds the BCC's training requirement for experienced coaches or anyone with a qualifying Master's degree or higher.
Here are three reasons why you need to be certified with PragmaDoms:
PragmaDoms offers the needed coach training program. We give you the tools and methods to coach clients from start to finish, set up a practice and stand apart in the competitive field.
Our program is practical. It is not academic or theoretical but it is grounded in best practices and applied theory research.
We have been helping aspiring life, executive, leadership, career, and business coaches become successful for almost two decades; we know what we are doing.
Requirements
We offer two types of certifications; Life and Executive. Both will put you on the fast track to be certified with the ICF if completed with the Mentor Coaching program. Our Certified Coaching Programs provide you with: Training Manuals, Weekly Webinars, Coaching Toolkits and Practice Coaching. Both programs take a minimum of 6-month coach training and another 6 months if mentored.
Your feedback is always taken into consideration
On behalf of the Johns Hopkins ER department
Dear Nada just wanted to say thank you so much for helping me through my speech, for focusing me on the most effective approach, diligence and self-motivation.
Thank you for Lara cooperation and efforts.
Thank u all for your invaluable input honestly and professionalism.
I'm so grateful to work with you.
Wonderful philosophical talk. Great presentation
Executive and Leadership Coach
I am so grateful I have met a person like Mrs. Nada Jreissati Daher who doesn't care about coaching only from a business perspective but who considers it her own mission in life. That's the main reason she has been able to mentor me not only to become accredited by ICF as an Executive and Leadership Coach through PragmaDoms but also to put all my learning into action and overcome all challenges standing in the way of starting my own business so I can finally and practically make my dream come true.
Thank you for your continuous efforts, for all the opportunities and mostly for believing in me.
To share my experience with PragmaDoms, and Mrs. Nada Jreissati Daher, I can say it was an experience, well out of this world, one that made me believe in time traveling, throughout the program, 15 years of my life passed through my eyes , each word used , had a treasure inside it.
To highlight on the most important thing in this journey , it wasn't only the information presented during the course, but the way Mrs. Nada presents the information and the love and care in each word and how it can be used in everyday life, she speaks our language, our culture and understands what our market suffers from the most, she used her international experience to make us understand ourselves and others .
And that is simply priceless.
Thank you Nada, thank you PragmaDoms .
"Nada was the only coach who had the ability to release my potential by strengthening my leadership background, providing honest & transparent feedback that can add value to my next step plan, being always on time to support my progress."
"Nada truly deserves the description of Master Coach. Going through the Program with her has been a wonderful and enriching experience. Nada's excellence in teaching has made me apply what i have learned all along on myself, making me a stronger and more determined individual."
HR Manager and Executive Coach, Afkar Holding
I have worked with Nada on personal and corporate level and both experiences were above my expectations. Nada accompanied me throughout my coaching certificate and throughout building a coaching culture in our organization. Nada provides high value in everything she offers and does not accept delivering something less than perfect. She made a big positive impact on my life. In addition, we got a high return on investment from her coaching services and trainings.
"As some of you know, Coaching is currently the second most growing career in the world. So, that was one of the reasons why I wanted to become a Life Coach. Having said that, I needed to choose the program that will lead me towards the right path so i could achieve my goals. So, there was no better place than PragmaDoms and there was no better mentor, guide and Master Coach than Nada, who took us under her wings and taught us what passion, motivation, empowerment, positivity, love, integrity, empathy and perseverance really mean. I can never be thankful enough for PragmaDoms and especially for Nada for being a great inspiration and will continue to do so for years to come. Thank you for sticking up for me and showing me how to stick up for myself and others."
"Wow What a ride!!! Nada Jreissati Daher is awesome!!!
She has a magical way of bringing one out of chaos and back to an inner peace that allows for learning, understanding, and moving forward."