We provide personalized, one-to-one or group support to help you develop your leadership skills, build relationships, overcome challenges, accelerate your development, and achieve your goals.
What is Coaching Consultancy?
This is our signature program and the most results-driven coaching any person can put to use. Our Coaching Consultancy program accelerates results, makes a real difference to your lifestyle and adds value to your business. It one of the most adaptable and powerful management tools available to organizations today. During the process, individuals or groups are coached by one of our trusted elite coaches.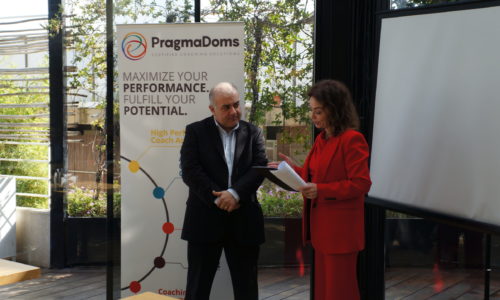 Why choose this program?
Coaching Consultancy develops potential, improves performance dramatically and puts you on the fast track. This happens through developing personal leadership skills, setting better goals, reaching goals faster, making better decisions, and improving communications and relationships.
Fast-Tracks your process
We provide you with a focused, personalized attention to shortcut your journey and achieve your personal and professional goals.
Master your mindset
Working with a coach equips you with your unique "owner's manual". You will have the necessary tools and insights to reach your goals effectively.
Accountability
We will ensure that you see your goals through to the end and achieve the bold results you desire. PragmaDoms offers the needed coach training program. We give you the tools and methods to coach clients from start to finish, set up a practice and stand apart in the competitive field.
Fresh perspective
You will have a fresh and different perspective whenever you encounter a problem. Together, we will overcome whatever comes your way.
How would you benefit with us?
PragmaDoms coaching interventions and unique evaluation methods will help individuals or organizations focus on current and future achievements. These methods will build awareness, establish responsibility and result in behavioral change.
Here are three reasons why choose coaching with PragmaDoms:
Our coaching process helps individuals or organizations in implementing lessons learned and translate knowledge into practice.
We will identify the areas that need improvement and customize an adequate program that meets your needs.
Our program is more collaborative, less hierarchical approach, where you are valued and supported, rather than directed and controlled.
Requirements
The individual or group needs to adopt a mindset of openness that allows coaching to be implemented.
The Coaching Consultancy Program usually takes from a minimum of 3 months to 1 year, depending on the individual or the group's availability, progress and program design.
Your feedback is always taken into consideration
Senior Performance Management Specialist, Azadea Group
"The workshop was so interesting, full of new information and rich. The trainer was also excellent and the passion she showed for the topic pushed us to be more interested. I am thankful for my company for the chance they gave me to attend this workshop."
DIFCO Group, Group Coaching
"The greatest good you can do for another is not just to share your riches but to reveal to him his own. Thank you for the greatest things you are doing for us Coach Nada!"
Lebanese American University, Group Coaching
"I would like to thank you for your time and thank you for sharing all the supportive tips with us. I am very inspired by your story and your character and work; this is something I want to do someday."
Performance Management Specialist, Azadea Group LLC
"I have realized that coach is the most powerful form of leadership I can practice. Thanks to my coach trainer Nada Daher as she was the one who made me believe and understand the need of executive coaching. With Nada's help as a trainer, I was able to recognize where I could improve myself and what are the keys for a successful coach."
"New valuable piece of puzzle added to my leadership skills – I will never stop when I am tired, I will stop when I am done."
Head of trade at the British Embassy – Department for international trade
In the time I worked with Nada, she has proved to be an excellent friendly colleague and strong team member. Nada is very active and personable, prioritises her work and uses forthsight in dealing with a whole range of issues. I would be very pleased to work with Nada again and have no hesitation in recommending her.